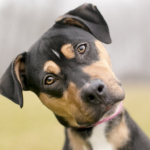 Frequently asked questions: I am here to help.

Not sure about booking training with R+ Dog Training? Here are some of the frequently asked questions that R+ Dog Training receives.

Don't worry if you don't see your question here: just get in touch to get the help that you need.
Is my trainer qualified?
Yes! Unfortunately, the dog training and behaviour sector is largely unregulated. Anyone can call themselves a behaviourist or trainer and set up in business without qualifications or experience. Not all behaviourists and trainers use kind and effective methods.

You wouldn't employ a plumber or lawyer on that basis. I know that you and your dog or cat deserve the same guarantees.

I continually update my training and add qualifications so that you can benefit from my up to date knowledge. You can find out more about my qualifications and experience here; but don't just take my word for it. You can confirm that my qualifications are genuine or find out about the awarding bodies and read what my clients say.
Do I have to pay in advance?
Yes. I am usually very busy and want to help as many dogs and cats as possible. Booking and paying for your session is the only way to guarantee your place. You will receive an invoice for your session or course with BACS details for making payment.  Please confirm that you have paid so that I can spend more time with clients and less on admin! Also, please read the terms and conditions before confirming. There is no small print and they are quite short. I will ask you to confirm that you have read and understood them when you book.
Can I choose the time and dates?
Yes, subject to availability. The standard hours are 08.30-16.30 on Monday and 08.30-17.30 from Tuesday – Friday. I may be able to schedule a workshops or one-off sessions outside of these times with mutual agreement. Sessions run consecutively (usually weekly) and you can take a break between courses. You will receive an automatic discount when you book and pay for a second course before the end of your current course. Thereafter, the more sessions you book, the bigger the discount. Many of my clients choose long-term training and Walk and Train to progress through the stages of their dog's or cat's development. This is invoiced monthly once you have completed at least one course.
Can I create a c

ustom

 training course?
Yes. All courses have a core curriculum, but are always tailored to suit your needs, your lifestyle and your dog or cat. You can also mix and match courses and sessions and create your own training adventure and take advantage of help and advice between sessions.

You can also:

— Book a course and choose an additional option such as Walk and Train
— Add a one-off session for Reliable Recall, Peaceful Picnics or a session to brush up on your training skills
— Book additional options at the beginning or at any time during the core course.
What if I have to cancel?
Please make sure that you can commit to all of the sessions when you book a workshop or course so that you can get the most benefit from the training. The courses are crafted carefully to cover everything that you will need to attain your training goals in the allotted time. I want to be able to help as many people and as many animals as possible, so I cannot offer refunds for missed sessions. It may be possible to make up for a missed session, but this cannot be guaranteed at busy times. Additional sessions will be invoiced at the hourly rate of £120 and must be paid for in advance. Read the full terms and conditions here: they are quite short and there is no small print!
Where are the sessions held?
Most training sessions for dogs take place in your home and out and about in your local area so that you can practise in the ideal setting. Cat sessions take place in your home and, with prior agreement, at a vet or groomer. 

Don't live in West London but want to work with a Karen Pryor Academy Certified Training Partner? Contact me to check out-of-area availability and prices.
What do I need to bring?
Your confirmation e-mail will include details of the recommended equipment.
You will also receive a free Welcome Pack at your first lesson to help you to get started immediately.
Will training be time-consuming?
I will help you to fit training into your usual schedule and support you between sessions with written notes and advice. Use the notes to build a training manual so that you don't have to try to memorise everything in a session. A few dedicated minutes every day can make a world of difference to your progress, but don't worry if life gets in the way and there are occasions when this is not possible.

I can help you with dog training using the Walk and Train option if you need additional support to accomplish your training goals. You can also incorporate a regular dog walk with one of our Social Dog Walks to pick up training tips.
How quickly will my dog be trained?
R+ Dog Training courses are designed to be as effective as possible. If you attend all the sessions and practise for a few minutes every day, you can see results immediately. You can progress from Puppy, to Adolescent, Adult and Senior courses to help your dog at every stage of life. You can also speed up training by getting help using the Walk and Train option and get tips between sessions by joining a monthly Social Dog Walk.
What if I have a question 

between

 sessions?
Feel free to get in touch! Asking questions is all part of the learning process. You will be supported with information that you can build into a training manual. If your question isn't answered there, you can e-mail or telephone and I'll set you back on track.
My question isn't covered here.
Need more information? Get in touch: I am waiting to help you.